Head Boy & Head Girl - Aperehama me Suraya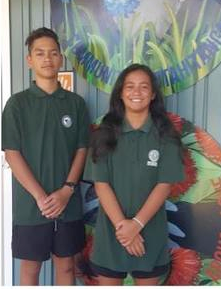 We are very proud to introduce our Head Boy and Girl who are leading our small rural school of 40 students. These student leaders were selected by their peers and teachers as they embody and exemplify our school values Community, Aroha, Respect and Excellence. We look forward to seeing them lead, grow and pave the way for our future leaders.
Head Girl
Ko Hikurangi toku Maunga

Ko Waipaoa toku awa

Ko Parihimanihi me Tinatoka oku Marae

Ko Suraya Collier toku ingoa

No Turanga-nui-a-Kiwa ahau
As Head Girl I aim to encourage others to take risks, challenge themselves and dream big. I want to help everyone believe in themselves and achieve their goals..
Head Boy
Ko Pureora toku Maunga

Ko Waimiha toku Awa

Ko Te Hape toku Marae

Ko Williams raua ko Nathan toku Whanau

Ko Aperehama Williams toku ingoa

No Benneydale ahau
As Head Boy I hope to encourage others to respect their elders, look after our whenua (land) and work together as a whanau. I want all of our students to be proud of where they come from.